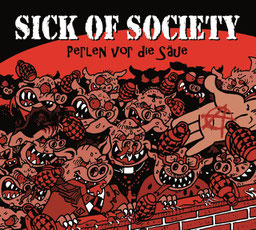 Ein Vierteljahrhundert Bandgeschichte können Sick Of Society in diesem Jahr feiern - ein beachtliches Jubiläum, auch wenn die Zeit sicherlich nicht spurlos an der Band vorbei gegangen ist, unter anderem musste man ja den Weggang von Sänger/Gitarrist Fizzi verkraften. "Perlen Vor Die Säue" klingt trotzdem so, als wäre man immer noch aktiv in den Achtzigern: Sick Of Society spielen rotzigen, wütenden Hardcore-Punk mit klarer Botschaft.
Das beginnt beim Intro, in dem sich viele Sprachfetzen von Trump und Co mischen und geht dann das gesamte Album durch: Gegen rechts, gegen Ungerechtigkeit wird hier laut, aber eben auch melodisch ausgeholt. Auch dem klassischen Deutschpunk-Singalong steht man nicht völlig verschlossen gegenüber, man höre etwa das recht eingängige, aber auch sehr simple "Biersam für die Seele", das dann aber auch gleich wieder von dem hymnischen "Der Wahnsinn eines Lebens" abgelöst wird, das genau den richtigen Mittelweg aus Lärm und Eingängigkeit findet.
Wer die rotzige 80er-Kante und klare Ansagen schätzt, sollte diese Band auch im 25. Jahr ihres Bestehens noch kennen lernen.